[AD – this post contains dairy and nut free press samples. Items marked with * were gifted or have been gifted in the past, links marked with ** are affiliate links. This means I earn a small commission from sales made through these links, at no extra cost to you. As always, all opinions and foodie fangirling episodes are my own!]
Oh, you guys. This blog post has been a LONG time coming.
If you know me, you may know that I'm blessed with the joys of multiple allergies and dietary requirements, in varying levels of severity. Each of these come with their own challenges, but the two that (in my experience) seem most difficult to co-exist alongside each other are dairy and nut allergies.
Over the years I've established a reliable list of dairy and nut free chocolate and treats, but something I've struggled with is finding dairy and nut free snacks for on the go – stuff you can just chuck in the bag as you head out of the door, stuff to keep you going throughout your day. It's no secret that most snack bars designed for this purpose are full to the brim with pesky nuts and peanuts, or feature the classic 'may contain nuts' statement that so many of us have come to dread, so I'm chuffed to bits to share this post with you today: my tried and tested recommendations for dairy and nut free snacks for on-the-go.
Before we jump in, an important disclaimer: the foods I mention below are safe for me, at the time of consuming. I'll include below the allergen statements listed on brands' websites e.g. 'dairy-free' or 'suitable for nut allergies', however, you must remember that labels change all the time. If you choose to purchase any of these foods, *always* check the labels before consuming. If you're in any doubt, don't risk it. Easier said than done, but it's not worth it, even for the most delicious looking treat.
Anyway. Let's get on with it, shall we? Here are my top picks for dairy and nut free snacks for on-the-go!
"Vegan, Free From Gluten, Wheat, Milk, Tree Nuts, Peanuts, Celery, Shellfish, Fish, Lupin, Molluscs, Mustard, Sulphur Dioxide & Sulphites".
I've been in touch with Alexei of Lexi's Treats for a good while now, and in my eyes he's done the impossible – created the very snack bar I've been looking for, for the past 5+ years. His new Crispy Protein Bars contain no dairy or nuts, and yet they're the ideal treat to chuck in your bag and help you refuel throughout the day. Of the Blueberry Crisp and the Double Choc Chip bars, the latter are my favourite, but both were surprisingly sweet and tasty – nice and light to eat, whilst being plenty filling at the same time. And best of all, in my eyes, was the texture – I blummin' love a good crunch when it comes to snacks like these, and both flavours definitely delivered on that front.
Lexi is a one-man band who's established a nut-safe brand – he's shown that it's possible to honour the wants and needs of the allergy community and create genuinely delicious goodies at the same time… as well as committing to do all he can to make his treats as affordable as possible whilst establishing a small business. For that alone, he deserves *all* the acclaim. And if that hasn't sealed the deal for you already, you can get 20% off these goodies by using the code 'LIFEOFPIPPA20' when you check out. I can hand on heart recommend these ones!
"Delicious without doubt, Top 14 Allergen Free".
If you've read any of my previous free from food guides, you'll know that I'm quite the fan of Creative Nature and their dedication to providing goodies safe and inclusive for those with Top 14 allergies. I will admit that having tried them, I'm personally not the biggest fan of their Protein Crunch Bar flavours, however the flavours of the Raw Fruit Oaties** bars are much more up my street and in my opinion, perfect for on the go.
My favourite is the Oh Wow Cacao Chocolate Raw Fruit Oatie – even if you're hesitant around less mainstream flavours like cacao (as I am sometimes), I'd say you were safe with this one. It's a rich and chocolatey but mild and fruity taste, and all these bars have a really lovely soft and creamy texture – I'd probably most liken them to the taste and texture of scrumptious baked oats, making them an excellent choice for breakfast on-the-go as well.
We can't talk about Creative Nature without also talking about their Gnawbles**, and they too are incredibly convenient for popping in your bag. Perfect for satisfying any sweet cravings throughout your day, the Gnawbles also come in a range of flavours – my personal favourite being the Creamy Mylk Choc. They're still the closest thing I've found to vegan Malteasers, and I don't mind telling you I asked for (and methodically consumed) an industrial size pack of them last Christmas. Zero regrets, gang.
You can also get 10% off everything on Creative Nature's website by following this link** and using affiliate code LIFEOFPIPPA10 when you check out!
"Free From Organic Oat Bars made without gluten, milk, peanut, egg and soya with heaps of flavour."
Let me set the scene for you. It's 2017, and I'm on the Eurostar on the way to Disneyland Paris with my best friend. Our (paid for) on-board packed lunches arrive, and with trepidation I look inside the paper bag to see just how much they'd misinterpreted my food allergy situation this time. Believe me, there have been a few worryingly close calls over the years.
Imagine my surprise then, when I lay eyes on the Doves Farm's Chocolate Chip Oat Bar** I find inside my bag. After checking over the ingredients approximately 474738 times and forcing my best friend to do the same in case my eyes were deceiving me, I realised that I could actually eat this delicious looking bar… and truly, my happiness levels during that first bite were on a par with my overall excitement for five days in Disneyland. I wish I was joking.
These bars are chewy, oaty, chocolatey goodness – nice and light in texture, yet filling enough to keep you going. The chocolate chips add just the right amount of sweetness, and they're so easy to grab out of your bag when you're on the go. I will say that I later tried the all the other fruity bars in the same range and didn't like the flavour of them, but these chocolate chip ones have been a regular staple on my shopping list for the last four years. I cannot recommend them enough.
"Allergen friendly, tasty and nutritious". Check individual products to see allergen labelling for each!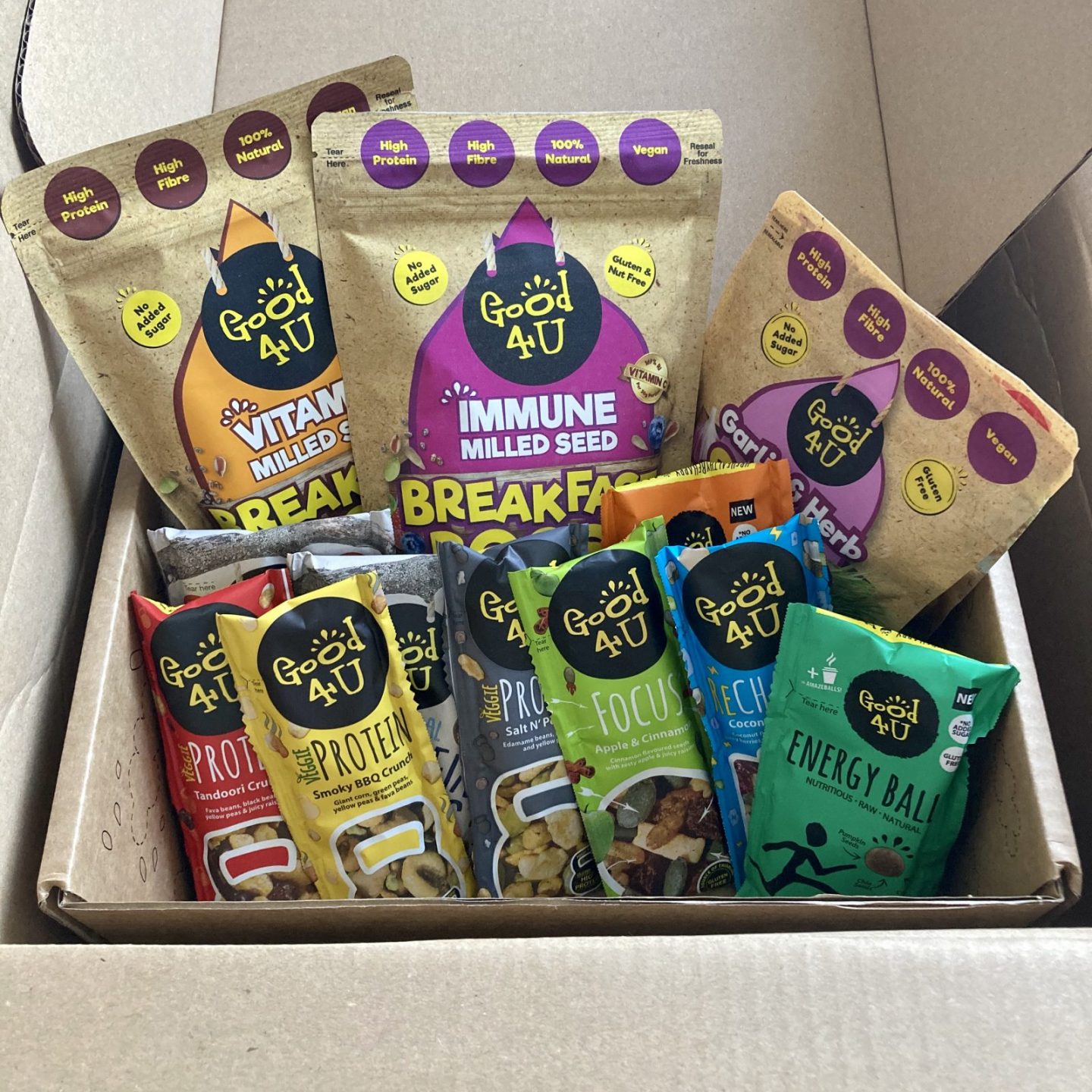 I've been a fan of Good4U's Salad Toppers for a good few years now, and heard only good things about their Breakfast Boosts (courtesy of my best pal Izzy) too. However, never before had I ventured into their snacks section… and I wish I know what I'd been missing. Good4U boasts a gorgeous range of Veggie Protein savoury snack sachets (the Salt n Pepper flavour in particular is to die for) as well as fruitier-flavoured seed sachets. Both of these are the perfect substitute for occasions where somebody might reach for packets of nuts – these packets can easily be tossed in a backpack and delved into throughout the day, with the contents tasty and filling enough to keep you going between meals.
If you have a sweeter tooth, Good4U also offer a wide range of Energy, Protein and Nutri Balls – squishy little balls of goodness containing natural ingredients and no added sugar. Whilst I was initially a little wary of what the texture of these might be like (I'm a crunchy and crispy gal through and through), I needn't have worried. My personal favourite flavour was the Cocoa and Orange Energy Balls, but if you're looking for snacks for children, my top recommendation would be the Strawberry Nutri Balls. Made from milled seed and freeze-dried strawberries, they're full of goodness and yet still sweet enough to feel like a treat.
If you're particularly health-conscious and pay close attention to the ingredients in what you consume, Good4U is the brand for you. Healthy, easy and delicious… and packaging that's particularly appealing for a younger audience too.
"Gluten free, nut free, suitable for vegetarians and vegans".
Back when I was first trying to navigate a dairy-free diet on top of my existing peanut allergy, trying Inka Snacks was the thing that finally reassured me that I was going to be alright. They produce a range of savoury snacks with Latin-South American flavours, of which I've personally purchased and loved the Roasted Giant Corn** and Amazon Plantain Chips.
Both of these snacks are quite unlike anything else I've ever tried – a distinctive salty and savoury flavour that really hits the spot when you can't quite work out what you fancy. There are some days where I need salt and I need crunch and I need it *right now*, and both of these options are perfectly packaged for on-the-go. I'm a bit of a wuss with spices so my best friend selflessly and heroically stepped in to try the Chilli Flavour Corn, and confirmed that though it's quite a strong spicy hit and not for the faint-hearted, they're equally as moreish.
Personally I can make individual packets of both of these snacks stretch to 2-3 servings, and I'm also hoping to get my hands on the Sweet Potato Chips in the near future to see how these compare. I first found these goodies in my local Holland and Barrett store, though they're also available to purchase in various British supermarkets and online too.
"Vegan approved", no nuts listed in ingredients or may contain.
Y'know those foods that you ate so much of when you were younger that you end up with something of an aversion to them? Before now, malt loaf was one of those foods for me. I remember regularly treating myself to slices of stuff with the butter when I was little, but before recent weeks it had been a good 15+ years since I'd had it.
That said, I recently spotted Soreen's lunchbox loaves and knew that the little individually packaged goodies could be just what I was looking for. I shied away from the other fruity flavours and opted for the traditional malt, and recently took them away with me on our UK holiday break.
Admittedly, eating plain malt loaf on its own was quite dry and an… interesting texture. I wouldn't reach for these little loaves by choice, but that said, they served quite a unique purpose for me. They became my go-to snack of choice whenever we made a stop-off for a cuppa and cake during our adventures. As I can never have any of the cakes in cafes and have to watch friends and family devour delicious goodies, the malt loaf seemed to plug the gap where more savoury biscuits and crisps might not quite do the trick. In short, the flavour was fine and they will do. I'd be interested to hear any other opinions on these and if the other flavours are worth trying!
"Gluten Free. Milk Free. Egg Free.  Suitable for Vegetarians and Vegans. Produced in a nut free site".
So here's the thing. That rather lukewarm Soreen Malt Loaf review above this one was the last I intended to write before I hit publish on this blog post… but just before that, I saw the news that one of my all-time favourite free-from brands, Lazy Day Foods, would be releasing their new product – individually-wrapped Chocolate Cake Bars. Even at first glance, I knew they would be ideal for on the go and perfect for filling the tea and cake gap I described above. Quite frankly, I could have cried with happiness.
These little cake bars are adapted from the brand's full-size chocolate celebration cake (also highly recommended from me), consisting of chocolate sponge with a chocolate frosting, and the whole thing covered in Belgian chocolate. For me, they seem quite reminiscent of what I remember Cadbury's Cake Bars being like – sweet enough to feel like a treat and for one bar to be enough, but not sickly or overwhelming.
With four in a pack, the cake bars perfectly serve their purpose. They're absolutely delicious and rich with chocolatey flavour, and best of all, they don't make any mess. I was prepared for lots of crumbs or frosting fallout, but they were beyond easy to just whip out of their packaging and indulge in whilst on the move. They're the sweet treat I've been looking for to combat my café cake FOMO, and I'll definitely by stocking my cupboards with these for the future!
"HIPPEAS do not contain milk, soy, wheat, egg, peanut, tree nut, fish or shellfish."
I'm a very loyal fan of Hippeas. As somebody who doesn't even like eating chickpeas on their own, I'm as surprised as anybody by just how much I enjoy and crave these goodies. Up until now their salt and vinegar vibes chickpea puffs were in the running for the snack hailed as the love of my life… that is, however, until their new tortilla snacks** made their way onto the scene.
Available in a variety of flavours and packet sizes, the tortilla snacks are unlike anything else I've tried before. The fact they're made from chickpeas gives them a slightly denser texture than your typical tortilla chips, and a crunch that lives up to the reputation of their chickpea puffs predecessors. Though my lack of self-control means I could easily make my way through one of the bigger 130g bags in one sitting if the opportunity presented itself, the smaller 40g packets could be the perfect addition to lunchboxes or for snacking on-the-go.
Best of all though, guys, is that the Rockin' Ranch flavour** of the tortilla snacks is the closest allergen-friendly alternative I've found to Cool Original Doritos… the go-to snack of my teenage and student years. Though I'm less likely to be consuming these in a hungover state of disarray these days, I already know these bad boys are going to be bringing a heck of a lot of joy back into my life. You MUST try them.
~
If you're reading this post as it first goes live, how would you like to be in with a chance of winning some goodies of your own? Thanks to the gang at Good4U I have a huge box full of goodies to give away to one lucky winner in the UK – just complete the Rafflecopter form below to enter, and a winner will be chosen at random on 24/08/21.
And there we have it! I really hope you found this little dairy and nut free snack guide helpful, and I wish you only the best in finding your new favourite snack for on-the-go. If you know of any other dairy and nut safe goodies that should be on this list, I'd love to hear about them!