[AD – This guide includes treats that have been gifted for review purposes. Gifted items will be marked with *, even though I've purchased from almost every single one of these brands in a personal capacity in the past. Links marked with ** are affiliate links – this means I earn a small commission from purchases made using my link or discount code, at no extra cost to you!]
Christmas treats are the best kind of treats. There's no shame in admitting that festive food is the real highlight of Christmas, and this year in particular I reckon we have every reason to indulge ourselves.
When you live with food allergies, however, doing so becomes slightly more complex.
Back in 2019 I wrote a little guide to dairy and nut free chocolates for Easter and it's consistently remained one of the most-read posts I've ever shared. In my opinion, it just goes to show that there's a real need out there for more goodies that are safe for those who avoid both dairy and nuts.
As I wrote back then, there's no denying that there's been a *huge* increase in free-from foods here in the UK. It's been absolutely brilliant for people with gluten and dairy allergies, but many of these new developments have proved rather problematic for the nut-allergic community. So many of these brands that proudly proclaim they're 'allergy-free' and 'allergy-safe' are full of nuts: very much not ideal when just one trace of the little buggers could be the end of you. Such fun times.
Because of this, I'm here to share the brands catering for both dairy and nut allergies in the run-up to Christmas and provide my personal opinion on which of them are worth the money. I've selflessly and heroically taken it upon myself to indulge in these treats in the name of blogging, and let it be known that I'll be expecting my OBE any day now.
But before we jump in, an important disclaimer: the foods I mention below are safe for me, at the time of consuming. I'll include below the allergen statements listed on brands' websites e.g. 'dairy-free' or 'suitable for nut allergies', however, you must remember that labels change all the time. If you choose to purchase any of these foods, always check the labels and do some personal research into the manufacturer before consuming. If you're in any doubt, don't risk it. Easier said than done I know, but it's not worth it, even for the most delicious looking treat.
And now, without further ado, onto the goodies…
NOMO Caramel
It's no secret that I'm a huge fan of NOMO. Free from a handful of major allergens and easily accessible in shops and supermarkets, it's the brand the free-from community have been waiting for. Their Creamy Choc and Dark Choc were never my favourite, and I'm yet to try their HazelNOT Crunch, but both their Caramel and Sea Salt and Fruit and Crunch bars have served me well ever since their launch. I dread to think how many I've purchased in even the short time they've been around.
However, the brand only seems to get better and better. NOMO's new Caramel Bars are absolutely dreamy, and reminiscent of Cadbury's own caramel offering back in the milk-consuming days. They're indulgent without being sickly, and at 90p a bar, I believe they're excellent value for money. Even writing this now, I'm having *all* the cravings.
I also recently tried NOMO's Caramel Filled Chocolate box, and last year I purchased their Advent Calendar. Whilst both were as delicious as expected, I personally felt the value for money was compromised with these two offerings. £5.00 for a handful of noticeably small chocolates in just one or two varieties felt slightly disappointing, and I wouldn't be quick to repurchase goodies in this format. Instead, my best advice would be to put that money towards stocking up on their gorgeous bars over the festive season instead.
Lazy Day Foods
"Lazy Day Foods run our own bespoke free-from bakery in the heart of Scotland. The bakery is totally gluten free, dairy free, egg free and wheat free. We operate a totally nut free bakery. The only allergen currently used in the bakery is Soya." More allergen info on this page!
Lazy Day is by far one of my favourite free from brands. More often than not you'll find a packet of their Rocky Road or Tiffin Bites tucked away in my cupboard, so I don't even have words for the pure euphoria I felt when discovering their new Luxury Christmas Hamper.
There are three different sizes of hamper available to accommodate a range of budgets, but I can personally confirm that Lazy Day doesn't disappoint when it comes to value for money. The contents of the Luxury Christmas Hamper*, priced at £35.00, includes their Tiffin Selection Box,  Iced Fruit Cake Mini Bites, an Oatie Gift Selection Tube, two packets each of their Scottish Shortbread and Chocolate Chip Shortbread, a luxurious Truffle Trio, an adorable Gingerbread Man with embellishments to decorate him with, and a majestic full-sized Vegan Celebration Chocolate Cake. OOFT.
Surprisingly, I didn't love the Truffle Trio as much as I expected to: the texture was on point but I wasn't as big of a fan of the three flavours. I'm yet to pass judgement on the Iced Fruit Cake Mini Bites (that is, if I can prise them out of my Dad's hands who claims they're the most flavoursome he's had in a long time) or the Gingerbread Man, but will update in due course!
I'm not usually a shortbread kinda gal, but  Lazy Day Foods' Vegan Chocolate Chip Shortbread is honestly one of the best biscuits I've ever tasted: both free from and non-free from. Quite the statement to make, I know. Their Oatie Gift Selection Tube was equally impressive, with the three varieties of biscuit packaged individually within the decorative tube. It took real strength of character not to devour the whole lot in one go, let me tell you.
The Vegan Celebration Chocolate Cake is quite simply a showstopper. Free from cakes can sometimes be a little dry, but the frosting and triple layers of chocolatey goodness ensure this one is moist (sorry, I'm sorry!) all the way through. It's a very rich taste and you'll likely only want a small slice at a time, and I reckon it'd pair nicely with some vegan cream too. Ultimate indulgence.
In short, if Lazy Days Food's Luxury Christmas Hamper* was the only gift under my tree this Christmas, I would have been utterly content. An absolutely gorgeous selection of suitably festive treats, worth every single penny.
Ananda Foods
"All of our products are Vegan and are registered with The Vegan Society. Our marshmallows are certified non-GMO and are free from gelatine, wheat, gluten, nut, dairy, egg and soya. Our Round Ups are free from gelatine, dairy, egg and nuts. We also produce a Gluten free version of the Round Up." More allergen info on this page!
Ananda Foods are a brand I've been loyal to for a few years now. If you've ever had a festive Spoonie Survival Kit, the chances are you'll have found some of Ananda's vegan marshmallows inside. They're a gorgeous small business based in Derbyshire who've been so supportive of my social enterprise over their years, and their bespoke goodies are completely different to anything else on the market.
Among other things, they offer gelatine-free marshmallows in a range of flavours and seasonal packaging. If you've never tried vegan mallows it can take time to adjust to the texture, and I personally prefer Ananda's bespoke mallows as an ingredient in other treats rather than on their own, such as they are in the products below. However, the flavours and *toastability* of them, if you will, are on point regardless.
Ananda also offer various other goodies, including fancy chocolate lollies (the Choc Crisp Mallow one is incredibly moreish) and their take on the traditional Waggon Wheel, the Round-Up. Available both with gluten and gluten-free, the Round-Ups are a gorgeously indulgent treat featuring two chocolate biscuits sandwiched together with marshmallow, along with a gooey jammy centre and rolled in Belgian chocolate. I was never a fan of Waggon Wheels previously, but biting into the sheer uniqueness of the Gluten Free Classic Strawberry Round-Up and seeing the gorgeous fluffy marshmallow inside made them feel like a proper treat. I've been regretting not stocking up on more ever since I took that first bite. Ananda's various goodies are at a slightly higher price point when purchased individually (£2.40 for 45g of marshmallows, £1.90 for the lollies, and £3.25 for the Round-Ups), but their various selection boxes make gorgeous gifts and there are usually treasures to be found in their online clearance basket too.
Cocoa Libre
"We guarantee our chocolates are free from gluten/dairy/nuts and always vegan." More allergen info on this page!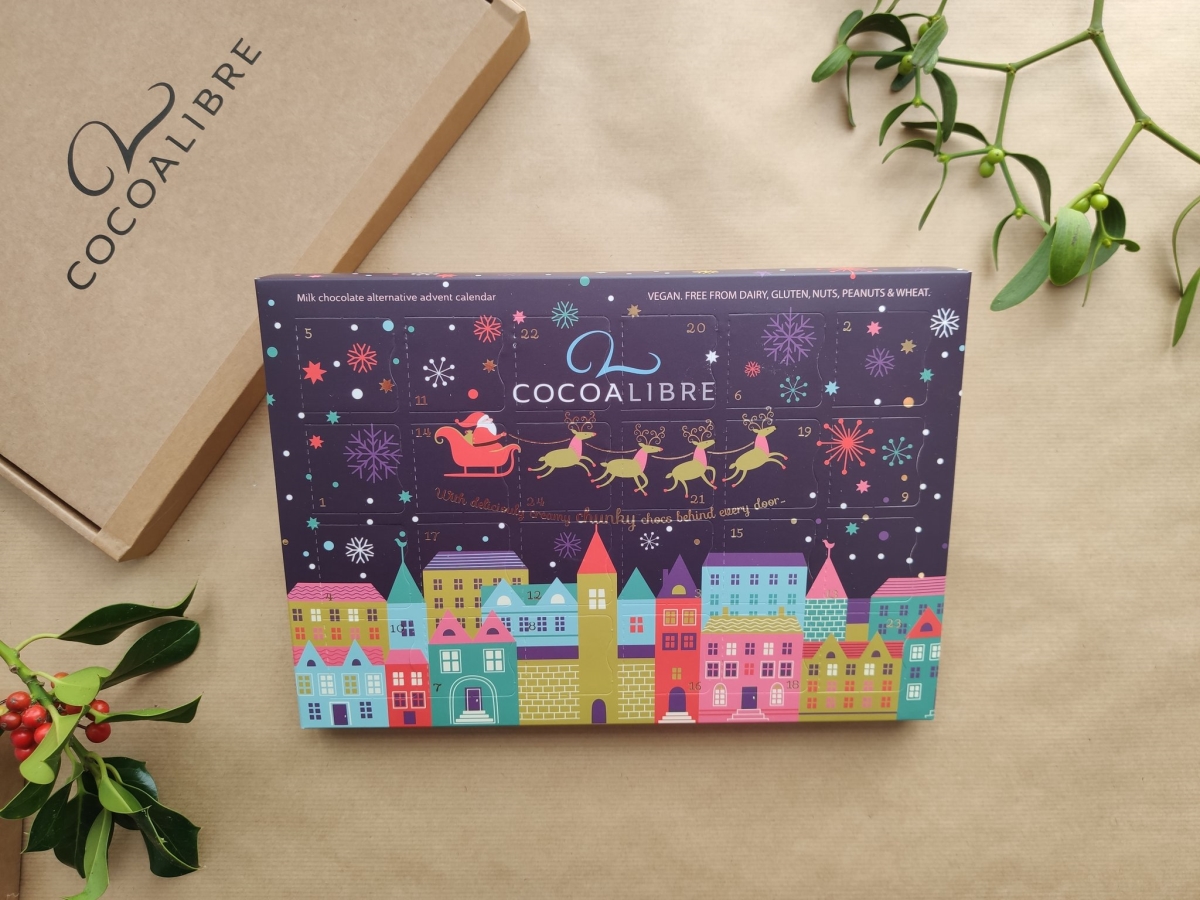 You may remember from my Easter post that when I first tried Cocoa Libre, I didn't love their plain bars of chocolate. And whilst that fact hasn't changed over time, I've since had the pleasure of trying some of their other goodies which have gone on to become firm favourites. Their Chocolate Slabs* come in a variety of flavour combinations and believe me when I tell you they are out of this world. My personal favourite is their Milk Chocolate Caramel and Sea Salt, but I reckon any of them would make a fabulous stocking filler.
Cocoa Libre offer a range of adorable products for Christmas, including Rice Milk Penguins and Dark Mint Penguin Crackers, Penguin Lollies, and chocolate Santa and Reindeer figures – again, ideal gifts for this time of year. And if their Orange Rice Milk and Dark Chocolate Snowman Slab is anything like the bunny variation I tried last Easter, I strongly advise you to get your hands on one of those for yourself ASAP. The prices of individual products mean I'd view Cocoa Libre's Christmas range as treats rather than everyday snacking choices, but again, there are also some good value Selection Boxes available online.
I also recently spotted a Cocoa Libre Advent Calendar, and after hearing such good things about them I decided to treat myself to one this year. As I mentioned, I previously wasn't a fan of their plain chocolate… but whether it's the smaller sizes or simply the adorable novelty shapes behind each door, I'm finding the Advent Calendar choccies to be glorious with my afternoon cup of tea. At £15.00 they're at a slightly higher price point than other free-from Advent Calendars on the market this year, but after seeing the detail and gorgeous quality of the final product, I feel pretty comfortable with what I paid for it.
Dandies Marshmallows (Goodness Goodies)
"Free from most common allergens (peanut, tree nut, milk, egg, wheat, fish, shellfish, and corn). Made in a dedicated vegan facility." More allergen info on this page!
You guys. Vegan or non-vegan, Dandies Marshmallows are some of the best mallows I've ever tried. Fluffy, sweet, and the perfect amount of squishy, I'd like to go on record and say it's impossible to just eat one from the packet and save the rest for later. Dandies offer a range of sizes and snazzy flavours, but my heart already belongs to these Classic Vanilla Flavour* ones… although I know the Mini-Marshmallows* would be a perfect topping for a festive hot chocolate by the fire. I reckon the texture (virtually identical to non-vegan alternatives) would make them pretty ideal for baking with too.
Dandies don't ship to the UK or Europe, but they're available for individuals to purchase via Goodness Goodies* – an absolutely beautiful online shop which sells vegan marshmallows, dairy-free chocolates (also including NOMO, if you're struggling to find it elsewhere!), sweets, and even ethical living products. Do be aware that not everything on Goodness Goodies is suitable for nut-allergic folk, so be vigilant in checking labels before you purchase or consume, but now that I've discovered Dandies I know I'll be a regular customer of theirs regardless. Those things are one of my best foodie finds of this entire year.
Just Love Food Company
"100% no nuts used in the recipes, 100% no nuts on site. In 2016, we decided to branch into gluten and milk free. In April 2019, we [launched] vegan celebration cakes, officially adding egg free to our catalogue. It is our vision to be the most inclusive celebration cake brand on shelf." More allergen info on this page!
I'll be honest, I've been eyeing up Just Love Food Company's range of cakes for years. They've taunted me from the shelves of supermarkets and been nothing other than worshipped in online nut-free groups, so I was chuffed to bits to finally get to try them for myself and see whether they were worth the hype…
Guys. The texture of these cakes is out of this world. If you're reading this post you'll probably be familiar with the… shall we say interesting tastes and textures that can come with free from foods, but Just Love's cakes were exactly how I remembered the texture of non-free from cakes to be. And heck, that's no small accomplishment.
The brand has just released their Chocolate & Orange Vegan Cake* in Tesco stores, and both the appearance and taste of this one make it, in my opinion, the perfect centrepiece for your festive table. Even though I'm not really a fan of chocolate orange, the subtle flavour notes combined with that gorgeous sponge texture, flavoursome frosting and adorable seasonal decorations have me lowkey slightly addicted. I can't wait to try their Vegan Chocolate Cake* and their Vegan Vanilla Cake adorned with sprinkles: an additional bonus is that all these bakes have a pretty good shelf-life, so one of them may just end up being my birthday cake this month…
D&D
"All our Chocolate is handmade, dairy free and suitable for milk free diets and those with lactose intolerance.  Our chocolate is also Gluten Free, Soya Free and Nut Free." More allergen info on this page!
D&D is a family-owned brand who offer a gorgeous range of seasonal chocolate and carob products, and as you may have seen in my Easter post from last year, their Chocolate Raspberry Hollow Crumble Eggs were honestly one of the best things I've ever tasted. I still crave them to this day.
I tried their Christmas Shapes* this year – 55% minimum cocoa solids individually wrapped as little treats, similar to what you might find in an advent calendar. I found the chocolate taste quite mild but with a pleasant hint of sweetness: perhaps the ideal combination for younger children with food allergies.
What sets D&D apart, in my opinion, is also the appeal their products have specifically for this younger audience – the packaging is so gloriously festive with brightly coloured wrappings and shiny cardboard boxes, and their Smiley Reindeer Felt Bag* full of goodies is just one of the absolutely adorable products in their festive range, with most products priced around £3.00 – £6.00. Whilst I wouldn't necessarily choose their plain chocolates over any of the others based on taste alone, D&D would still be my go-to for adorable and festive treats for young'uns at this time of year.
Creative Nature
[#AD – I have affiliate links for this one, as marked by **, and you can use code PIPPA10 for 10% off your order!]
Free from the top 14 food allergens, Creative Nature are an absolutely gorgeous brand who I've been a fan of for years. Whilst there are no specifically festive releases this year, their Baking Mixes** are quick and easy to use and would make for an excellent seasonal activity to enjoy over the holidays. I've tried a few of these kits myself, but their Pancake And Waffle Mix** is by far my favourite. Requiring only plant milk and apple cider vinegar to be added, the mixture makes at least half a dozen fluffy American pancakes… ideal for an indulgent holiday breakfast, if you ask me.
Creative Nature is also the home of Gnawbles**, the closest thing yours truly has found to free-from Malteasers. These tasty little choccy balls of goodness come in a range of sizes and flavours, all of which have the satisfying *crunch* texture that so often I think is lacking in the free-from market. My personal favourites are the good old Creamy Mylk Chocolate**, but for something a bit more festive, I can highly recommend the Brilliant Orange Cacao** crispy protein flavour too.
It's taken real strength of character not to go the whole hog and make the pancakes topped with the Gnawbles, but I can't promise this level of self-restraint can be maintained much longer, especially if Creative Nature carry on sharing people's majestic creations over on their Instagram page. OOFT.
Plamil
"We make positive claims of all products suitable for Vegans, No Milk and Gluten free… Our term 'no nuts*' or the absence of any 'may contain nuts' statement therefore is defined by our whole production facility being nut controlled, there is no segregated production facilities, storage areas or need for special 'no nut zones', but strict controls on every aspect of the business." – Plamil's products are each labelled differently so do check each one individually before you purchase or consume, but more allergen info can be found on this page!
Goodness me, Plamil's festive range is something else this year. So many gorgeous products, all of them in equally as gorgeous packaging that would look perfectly in place under a sparkling Christmas tree.
I haven't tried Plamil's chocolate for years but after learning of the company's ethics, this is definitely a brand I'll be purchasing from more frequently in the future. They're committed to ensuring ethical and environmental responsibility, and they're the longest-running plant-based company in the UK. Most of the ingredients in their products are organic and Fairtrade, and all of the energy used in production is from 100% renewable sources. In short, I'm seriously impressed. I had everything crossed their products would pay tribute to these highest of standards, and it's safe to say I wasn't disappointed…
The So Free Cocoa Bites* are so unique: teeny tiny squares of chocolate, full of flavour… exactly the kind of thing you'd be looking to graze on from Christmas Eve right through to New Year. The Dark Cocoa Bites are smooth and flavoursome whilst not being too bitter, thanks to the coconut blossom sugar in the ingredients, whilst the Milky Smooth Cocoa Bites were lovely and sweet: the perfect nibbles to go with a cuppa, if you ask me. I personally didn't love the White or the Strawberry Cocoa Bites, but the Salted Caramel had a subtle but gorgeous flavour, whilst the Chocolate Orange were by far my favourite and packed a heck of a punch.  All Cocoa Bites come in paper pouches, or in reusable and recyclable jars with refill packs available. Ideal excuse to make them a regular on your shopping list, if you ask me…
I wasn't as big of a fan of the solid chocolate in the novelty shapes – besides the gorgeous packaging and the appeal they undoubtedly hold for children, the Organic Chocolate Santa Bar* and similar goodies I wouldn't be in a hurry to repurchase. The Bow Tie Penguin Box* full of buttons, on the other hand, was absolutely fabulous. The buttons were sweet and flavoursome, and are by far the closest thing I've found to the dairy chocolate buttons that were my childhood favourites.
Plamil also offers a range of Advent Calendars, with their Salted Caramel Vegan* product new for this year. Will update on this one in due course once I try it, but at first glance it looks like an affordable and good value for money Advent Calendar priced at £4.95, especially when you take into account the sustainable production efforts behind it. The December countdown is ON, gang.
~
So, after careful scrutiny and vigorous testing by an expert panel (me), here are my top picks for 2020…
Personal Favourites:
Cocoa Libre Milk Chocolate Caramel and Sea Salt Slab
Dandies Classic Vanilla Flavour Marshmallows
Gnawbles Creamy Mylk Choc
For Children:
D&D Christmas Shapes
Plamil So Free Bow Tie Penguin Box
Lazy Days Gingerbread Man
Stocking Fillers:
NOMO Caramel Bar
Plamil Chocolate Orange Cocoa Bites
Ananda Foods' Classic Round-Up
Festive Gifts and Showstoppers:
Lazy Day Foods Luxury Christmas Hamper
Just Love Food Company Chocolate & Orange Vegan Cake
Creative Nature Pancake and Waffle Mix
Thanks so much for reading: go forth and enjoy, fellow free-from friends!
If you decide to give any of these goodies a try, I'd absolutely love to hear what you think of them. It's so important we throw our support behind the brands doing what they can to be inclusive for those with multiple allergies, so please do go and show them some love online as well. If you're reading this post as it goes live, head over to my latest Instagram Reel to win a box of these goodies for yourself! 
Where To Next?