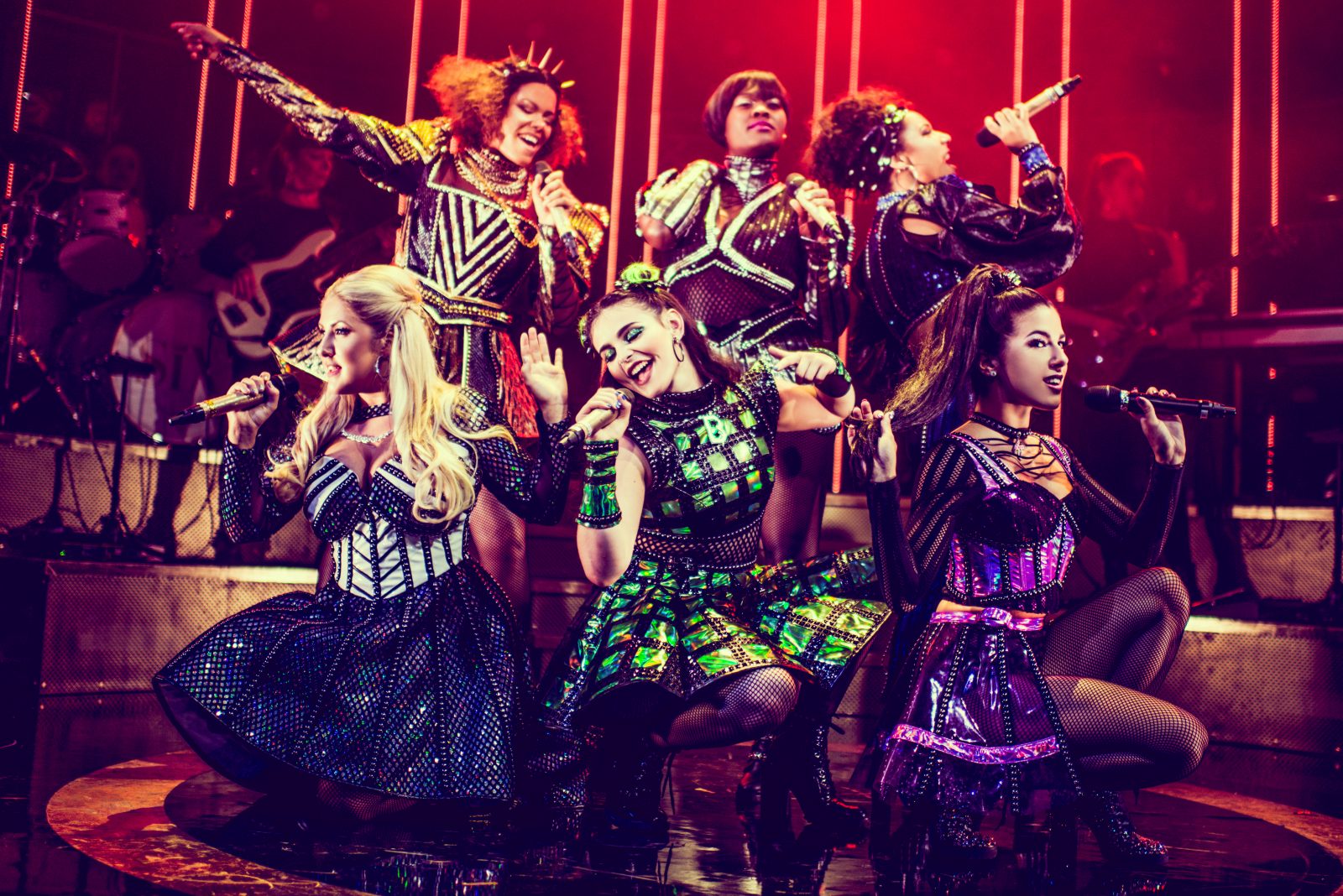 Expectations: 5/5
Reality: 5/5
Chronic illness friendly: 3/5
Cast your minds back to West End Live 2018, when six females stood behind their microphones on that stage and turned a relatively unheard of new musical into an overnight sensation. A mere four months later, and Six The Musical's made its West End transfer, SOLD OUT the venue, and promised devoted fans a return following their upcoming UK tour. Not too shabby, right?
I'd been following the musical with interest ever since that West End Live performance, and I'd made my peace with the fact that I was unlikely to catch their run in London this year before they moved on. Making a six-hour round trip for a 75 minute show just wasn't feasible for me… or so I thought, until the cast recording dropped on Spotify and I found myself booking train tickets the very next day.
So, was it worth it? Absolutely.
Toby Marlow and Lucy Moss have created a work that I believe could very much make musical theatre history. Six is unlike anything I've ever seen before: a contemporary retelling of the stories of Henry VIII's six wives, from the ladies themselves, fed up of being the backing characters in one man's narrative. A historical tale featuring dialogue and lyrics infused with modern society and pop culture references, Six is sharp, sassy and absolutely glorious.
The casting was on point, with each performer successfully portraying the personality and unique circumstances of their Queen in a hilarious yet moving way. Everything about the production highlights how the voices of these women have for years been unheard, and how now is the time to let them have their say about that Henry guy who's overshadowed them for centuries. I particularly enjoyed Millie O'Connell's humorous portrayal of Anne Boleyn, and the depth of character that Aimie Atkinson gave to Catherine Howard, but each one of them were flawless throughout. I loved the moments of interaction with the talented onstage band, Ladies In Waiting, too.
And oh my goodness, those Queens can dance. Carrie-Anne Ingrouile's choreography was such a highlight of the performance for me: commercial hip-hop oozing with sass, enhancing the already infectiously catchy music and executed (excuse the pun) flawlessly by those on stage. After listening to the cast recording, I was so excited to see how the Haus of Holbein number would be staged, and I definitely wasn't disappointed. The choreography was so on point, and absolutely hilarious. I hope with everything in me that I get to see that moment again in the future.
Though the Arts Theatre is such a small and intimate venue, everything about Six gave me the vibe of being at a live music concert… with not one, but six Beyoncés on stage. The sound and lighting design were minimal in many ways throughout the show, but emphasised the performance to the point where I almost felt like it was too big to contain in such a small venue. The finale in particular was a particular spectacle, where everything came together in celebration of these women binding together, speaking out and empowering others.
Six really does stand on its own as a unique production. For me it was incomparable to, but in the same league as new works such as Hamilton, and just goes to show that there IS a shift happening in musical theatre culture. This production seems to target a whole new demographic: the style of humour, modern references and even the ability to film the finale (a concept that felt alien to me beforehand but just seemed right at the time) seem to be ideal for young adults in the 21st Century. And if that in turn encourages more of these people to become engaged with musical theatre, I'll be so glad of it.
Chronic illness friendly review
Initially I had concerns about flashy lights and special effects during the production, but I'm pleased to report that these were nowhere near as debilitating as they could have been. No particularly strong strobe lighting effects were used, however rotating coloured lights were in effect throughout the piece. I'd err particular caution during the first number, Ex Wives, and during Haus of Holbein, where UV effects are utilised.
Aside from that, the only other thing to be aware of is that the performance is more like a concert than a show, with lots of audience interaction. If sensory overload is an issue for you, be careful: I had a group of girls behind me who screeched their heads off every time somebody on stage opened their mouth, which I know could be problematic for some people with chronic illness.
The Arts Theatre is a lovely venue, and they do have balcony wheelchair seating available. I had seats in the stalls down a flight of stairs. Our seats towards the back of the stalls were relatively close together with not a great deal of leg room, so an aisle seat may be a better choice for those who need to wiggle around or stretch a bit. There's more information about access and seating in the Arts Theatre on the SeatPlan website.
Also bear in mind that the performance has no interval, and is a straight run of 75 minutes. There are pros and cons to this, but to me it felt like a really nice length of time: I was ready for a rest by the end of it, but it was just right. Another huge perk was the fact that rather than a separate Stage Door, performers enter and leave the building through the foyer: a café area with seating. That means that those who struggle to stand for long periods still have the opportunity to do Stage Door and interact with the cast: such an unexpected perk that meant my experience ended on a high, too.
In summary, choose your seats wisely, be prepared for lighting effects and an audience vibe like you've never experienced before, and enjoy the heck out of it. I'm SO glad that Six will be back in the West End soon for more audiences to appreciate, and I strongly encourage you to give it a go yourself: I came out of that theatre feeling like an empowered and vindicated Queen myself, and I know you will too.
Find out more about Six and their upcoming performances on their website. Six will be returning to the West End in 2019: time to get your tickets booked through Theatre Tickets Direct*, right? Have you seen Six? I'd love to hear how you found it!
Links marked with * are affiliate links: I earn a small commission from any sales made through these links, at no extra cost to you.