First things first, you can:
Go on, treat yourself…
"Dear M.E,   
If this letter was part of an inspirational movie, I'm sure I would be saying a heartfelt thank you. Dramatic music would play whilst I'd gush about how becoming ill changed my life for the better and helped me discover more about myself as a person, whilst I waltzed off into the sunset with a handsome prince and some kind of small fortune due to a dramatic plot twist. 
Unfortunately, this is not an inspirational movie. Instead of waltzing off into the sunset, I manoeuvre an unreliable wheelchair along a questionably uneven pavement. Instead of finding a handsome prince, I concentrate on finding the most qualified medical professionals to manage my condition… with bonus points if they happen to be attractive, of course. And my plot twist isn't a small fortune: it's not knowing if, when or how I will ever get better." 
– Pippa Stacey. Dear Chronic Illness (Kindle Locations 171-173). Wallace Publishing. Kindle Edition. 
If you know me or you're a regular reader of my blog, you may know about my social enterprise, Spoonie Survival Kits. We make 'little bags of happiness' for those with long-term conditions, and donate fifty per cent of our sales money to various chronic illness charities. The remaining fifty per cent is plugged back into sustaining the project: the hidden costs of running an enterprise like this don't half mount up, and coming up with accessible and creative methods of fundraising is incredibly important in keeping the project alive.
That said, I never envisioned that one day, three years on from the launch of the project in 2015, there would be a charity book with my name on it. Thanks to Leesa Wallace and the absolute babes at Wallace Publishing, I'm thrilled to bits to announce the release of 'Dear Chronic Illness'*, our new charity book in aid of Spoonie Survival Kits.
Dear Chronic Illness features a collection of short letters collaboratively written by young people, addressed to their conditions. It was important to us that the letters avoided being your typical sob stories or fuel for misguided 'inspiration', and instead they provide a light-hearted and humorous commentary on each of the writers' various experiences, whilst also aiming to give insight into the challenges of navigating life whilst living with chronic ill-health.
The letters are addressed to a range of long-term conditions: from POTS to endometriosis, from tumours to Severe M.E, and it means the world to us that this book features 16 of our favourite people, who have so kindly volunteered their time and energy by contributing their stories. You can meet the contributors and find out more about them by visiting this post on the Spoonie Survival Kits website, or by checking out our recent Twitter thread. Trust me, these people are wonderful.
And the best bit of all? All of our royalties from the book are to be donated to Spoonie Survival Kits, meaning that each book sale will directly equate to funding the enterprise and continuing our development. Hopefully, this will enable us to raise even more money for charity, and create even more accessible opportunities for fellow chronically ill and disabled people.
Dear Chronic Illness is a short read comprising of 62 pages (therefore hopefully less daunting to those of you with cognitive issues/brain-fog), and is available in both eBook and paperback* format on Amazon, and also on Barnes and Noble. Have you got your copy yet?!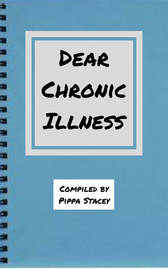 I'm sure it goes without saying, but I have so much gratitude for our contributors, and for the wonderful Wallace Publishing, for making this happen- this has been a completely new experience for me, and Leesa Wallace's support over the last few years has been invaluable. And to top it all off, after reading the book for herself, Leesa has pledged to do her bit and is now offering accessible work experience opportunities for those with long-term conditions! Any of my bookish friends will know how notoriously difficult it is to gain work experience in publishing, even more so when you're disabled, and so I'm genuinely full of glee  think of the good these roles could do. You can find out more about these opportunities, and how to express an interest, on Scope's Online Community.
Anyway, I really hope you guys enjoy the book: if you do, it would mean the world if you could leave a cheeky Amazon review*, or add it to your Goodreads feed, or maybe spread the word using the hashtag #DearChronicIllness, and help us to encourage other people to read it for themselves. If you'd like any further information about the book or have any media requests, feel free to drop us an email at [email protected], and we'll be in touch. In the meantime, you can keep up with Spoonie Survival Kits and our work on Facebook, Twitter and Instagram, and shop our products on Etsy too.
I hope you aren't too sick of me saying this but… I just cannot believe this has happened. We're releasing a book, something that I've only ever dreamed about, and it's thanks to the kindness of others that this has been facilitated and become something real. There really isn't a thank you big enough to express the gratitude I have to each and every person who's supported me and SSK over the last few years, and I suppose now my pledge is to do my best to pay this kindness forwards, and hopefully make you all proud. Thank you, thank you, thank you.
Now, get yourself your copy of Dear Chronic Illness*, tuck yourself up in bed with a cuppa, and enjoy. And if you find yourself fancying writing a letter to your own chronic illness, I'd love to read it!
Links marked with * are affiliate links. I receive a small percentage in commission for any sales made through these links, at no extra cost to you: any earnings made here will also be donated to Spoonie Survival Kits.