In April 2018, I had the unreal experiences of being an Olivier Awards #BeInspired Award winner. My best friend and I attended the ceremony, walked the red carpet and collected my award, then partied with the stars and were treated like princesses for the night with a stay at a five-star hotel. It really was a once in a lifetime experience, and I'm SO excited to tell you all about it…
Back when my best friend Izzy nominated me for the 2018 #BeInspired awards, we literally had a conversation about how unlikely it was that I would win. We looked back at last year's winners, mutually agreed that "well… it was worth a try", and went for a McDonalds. When, a few weeks later, my phone madly started vibrating with calls, texts and WhatsApps from Iz, naturally I assumed that either something terrible had happened, or that she'd just found a particularly good baby goat video on the internet.
Nobody was more shocked than we were to find out that I'd been chosen as a winner. Within days we were filming a promotional video with Getty and arranging our stay in the luxury Rosewood Hotel. We would be walking the red carpet, watching the awards live as audience members at the Royal Albert Hall, and attending the official after party at the Natural History Museum. You know, no big deal or anything…
Due to my chronic illness it takes a good bit of preparation to get me out and about and because of this, our weekend began the day before official proceedings, in the classiest way possible: getting a train from Doncaster, having a Nandos, and spending the night in Premier Inn. Bear with me, it gets better.
On Sunday 8th April, the day of the Olivier Awards, a car picked us up from the humble Premier Inn and took us straight to The Rosewood Hotel: a five-star establishment that had me bedazzled even from the first glimpse through the slightly torrential rain. We were greeted by the lovely Megan from SOLT (who I give props to for not visibly reacting to my bare face and hair up in massive rollers á la Izzy) and our stubbornly uncooperative transit wheelchair, affectionately known as George.
I think now would be a good time to talk about the Society of London Theatre team who co-ordinated the day for the four #BeInspired winners. As I've mentioned, travelling for me, as somebody with a debilitating long-term condition, isn't straightforward. I have many additional requirements that need to be met, without which this trip genuinely wouldn't have been possible. The SOLT team embraced this wholeheartedly: I'm so grateful for Chloe Cordell seamlessly addressing each of my needs and keeping me in the loop in the run-up to the day, and for Megan Ross who accompanied us and oversaw the logistics during the ceremony. To everybody at SOLT and the Olivier Awards who went above and beyond to make the day as special yet comfortable as possible for me, thank you so much. I appreciate it more than you know.
So, back to the jaw-droppingly luxurious hotel, where we're being shown to a room and praying that my wheelchair wouldn't inadvertently knock over something expensive. We open the door to our twin room on the first floor, and I wish I had got our reaction on camera, because my GOODNESS. It was gorgeous. I snapped some pictures and took some videos, but I doubt that they really do justice to just how lovely it was. Once we were alone, we basically had a meltdown over everything from the fact there was a real coffee machine to the quality of the loo roll.
Toto, we're not in Premier Inn any more.
From then until lunchtime, I rested whilst Izzy got started on her make-up, and THEN it was time for something that admittedly was a bit of a bucket-list pipe dream of mine: ordering room service in a fancy hotel. SOLT kindly covered our expenses for this, and I just about managed to keep my cool as the lovely, friendly server brought in the goods and set the table (!!!!) for us. As we were attending a formal event that night, Izzy wisely went for soup and salad. I have no such foresight and went for a giant chicken and chips instead. The food was genuinely amazing, and they even brought up soya milk for my cup of Earl Grey… which, despite being lovely, paled in comparison to my typical Yorkshire Tea that I definitely hadn't brought with me in my bag.
If you somehow haven't picked this up already, this isn't at all our usual environment, and I'd be lying if I said I wasn't a bit apprehensive about staying somewhere so classy beforehand. However, all of the staff at the Rosewood were so lovely, chatty and friendly, that they immediately put us at ease. It would have been easy to make us feel inferior, but I'm happy to say that it was good vibes only during our entire stay… even when we shuffled back in at 1am with McDonalds in hand. More on that later.
During our welcome in to the hotel, I was given the most wonderful surprise goody bag. I had wondered beforehand whether we might get a programme or a little memento of some kind, but I wasn't at all expecting a lovely box of Hotel Chocolat goodies and a bag of surprises from Mac Cosmetics (!!!!) as well. Fortunately, Mac is one of only two make-up brands that I'm not completely allergic to, and I was so, so chuffed with my goodies.
Not long after, the lovely Lola Alexandra arrived to do my make-up in our room. After some deliberation we went for a soft, glowy look, and I was so pleased with the end result. Lola probably wasn't to know that my declaration of "Oh my God, I LOOK SO HEALTHY!!!" was the biggest compliment I could give, but I hope she knows how much I loved it.
Hair came next and this was the bit I was most apprehensive about, namely because my hair is Rather Problematic. It's so heavy that it's beyond difficult to style, and its inability to curl nicely has bugged me all my life. BUT with sheer determination, three-quarters of a can of hairspray, swearing under bated breath and just the one minor burns incident… Izzy got my hair to curl. It was an Olivier miracle.
We had just enough time to get our dresses and shoes on, snap a hasty selfie or five, and make our way back to the hotel foyer to be picked up for the awards: this would have been around 3.15pm. Bearing in mind that I'd only had one rest so far on the day, this is usually the time where I'd begin struggling, but I think it was sheer excitement and adrenaline that powered me through from this point onwards. Off we set in our car with lovely fellow winner Willy and her good friend Lewis, both from MTAS.
After slight communication difficulties with the security guard who seemed convinced we were there to hijack the whole show, we stepped out onto the red carpet… and the heavens opened.
I'd be lying if I said the torrential rain didn't slightly dampen (or more likely, soak through) our red carpet experience, but it was still a once in a lifetime kind of moment. There's nothing like ceremoniously embarking on that walk, gazing upon crowds of faces staring blankly at you and trying to work out whether you're famous, then pointedly looking at the wheelchair that's being lugged behind you in case you feel like you're about to drop dead. Exactly how the celebs do it, I know.
We were to be presented with our awards during the Red Carpet Facebook Live show, which you can watch here if you like. The #BeInspired segment begins around 18 minutes in, and is only a couple of minutes long. Due to the rain and the fact my wheelchair was now sodden (despite best efforts to keep it dry), it was a difficult few minutes of standing for me but I made it up there, and we were presented with our awards alongside the President of SOLT, Kenny Wax. By then I'd also been introduced to fellow winners Angela and Cheryl, as well as Willy, and it was a privilege to stand up there on the stage along with three fabulous women, who are all doing amazing things within their fields of work.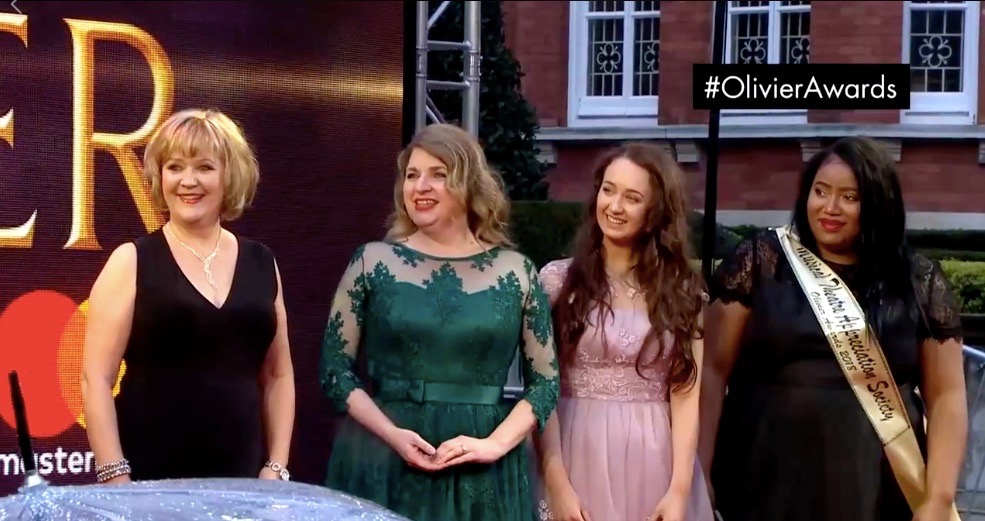 Next it was a photo call, then off into the gorgeous, gorgeous Royal Albert Hall for the pre-show drinks reception. This was our time to sit and get ourselves together, try and salvage my hair, dry off the wheelchair, and most importantly, take more photos. We were some of the first people in, and the room slowly filled up as more and more people arrived.
Now, before we'd set off, Izzy and I had sat and had a serious conversation about remaining professional and keeping the fangirling in check. There would be no jumping up and down, no secret photo taking, no trying to lick somebody's face etc… and we were doing well. However, for the involuntary but embarrassingly audible squeal that came from me when I unexpectedly spotted Imelda Staunton, I can only apologise. That woman is without a doubt one of my most iconic theatre idols, and if you know me at all I've probably at some point told you all about her performance as Mama Rose in Gypsy. I just LOVE her. We encountered a few more famous faces throughout the night, but unexpectedly seeing Imelda was by far the biggest highlight for me.
Me and Iz sat down and had a serious conversation before leaving for the #OlivierAwards about how we were going to be completely professional and not madly fangirl at everyone we see.

It's the interval now and let me tell you, it's not going well.

— Pippa (@lifeofpippa_) April 8, 2018
 Six o'clock quickly came around, and we made our way to the box (!!!!) held especially for us champions to watch the show. To the best of my knowledge I've never been in a box before, and our view of the stage and the rest of the venue was just amazing. It wasn't long before things began to happen: we were run through housekeeping and proceedings, and Catherine Tate came out to say hello to the audience before the official ceremony began.
As for the actual Olivier Awards show, I think I'm going to save this to talk about properly another time. But in summary, I hugely enjoyed it. It was a very long run, with 23 awards presented, but all of the musical performances were superb (and significantly increased my current list of must-see theatre), and some truly wonderful winners' speeches were made. It was so interesting to see the raw live event, and it felt really special to be witnessing a completely different spectacle to what TV audiences would be viewing at home. Not least for Catherine Tate's multiple sweary outtakes that were unintentionally broadcast live on Magic Radio.
Something I know I'll always remember is sitting in our little box during the interval, where we'd just been brought a complementary bottle of champagne, looking around and taking it all in. I was sat here at this prestigious event that I never in a million years thought I'd ever attend, feeling like a princess after a day of being spoiled and made to look my best, drinking champagne with my best friend by my side. I was in my happy place even before I remembered that I had emergency Lotus Biscuits in my bag to complete the moment.
After the ceremony came the after party, at the Natural History Museum. Beforehand, of course I was already looking forward to this, but Izzy's excitement after we first found out the venue location was next level. As we arrived, I began to understand why. The main foyer of the museum was done up and complemented with special effects, and there was a huge wall of twinkling fairy lights too. There was live music playing, and servers walking around with complementary champers and bowl food to hand out. In short, it was absolutely incredible. I'd never been to the museum before and could imagine that this part of it would be stunning anyway, but on this night in particular it was almost overwhelmingly magical.
As we are actual grannies and the live music was a bit loud for us, particularly for my noise-sensitive brain, we got ourselves set up in a quieter corner, which had everything you need for such an occasion: a drink each, bowl food for Izzy, and the skeleton of a giant taxidermy giraffe in the background. We had a lush few hours of people watching, making new friends, and even accidentally ended up chatting to Kara Tointon from Eastenders. A particular highlight for me was briefly getting to chat and snap a photo with the gorgeous Jamie Campbell; the real-life inspiration behind Sheffield's own Everybody's Talking About Jamie.
Once we'd had enough, it was time to say goodbye to a day of stardom and bring things firmly back down to Earth with a late-night trip to McDonalds. If you haven't before spontaneously visited a fast-food chain restaurant in black tie dresses and heels, you're missing out. After quite literally rolling back up to the Rosewood, with me deposited in the wheelchair semi-hidden under a bag of food that there was no point even trying to disguise, we arrived back into our room. Seeing that our beds were freshly made, and that there was a bottle of water waiting for each of us on our bedside tables? Quite possibly the cutest touch ever. At this point I didn't think there was much that could improve upon our evening, but chicken nuggets in bed before a cosy nights' sleep were definitely the way to go.
It really was a once-in-a-lifetime kind of day, and, as we reflected on the train home, we were so well looked after for the entire weekend that we didn't want for anything. I personally felt completely indulged and above anything else, appreciated. To think that such a thing had come from writing a blog and reviewing theatre from my perspective as a chronically ill person, both aspects of my life that I hugely enjoy as it is, was incredibly humbling, and I can safely say that this is an experience that I'll never, ever forget.
As such, I have some rather huge thanks to express. Firstly to the Olivier Awards organisers and all the official sponsors: thank you for running another massively successful event, creating the #BeInspired awards, and deeming me worthy of one. To MAC Cosmetics in particular, thank you for completely surprising and spoiling me with a goodie bag so fab that there were almost tears shed over it. To Lola Alexandra, thank you for sorting my face out and doing such a fabulous job of my make-up. To the Rosewood London, thank you for a once-in-a-lifetime stay in your gorgeous hotel.
To Chloe Cordell and Megan Ross already mentioned above: you relieved so many of my worries ahead of the event, and did everything in your power to make the weekend as accessible yet enjoyable as possible for me. I know I'm not the easiest guest in the world, and I appreciate all that you did without once making me feel like I was too much trouble. That means more to me than you know. To my fellow theatre reviewer friend Leah Rachel, thank you for being on the case with social media promo during the livestream- THIS is one of many reasons why blogger pals are excellent pals.
To my best friend Izzy: thank you for nominating me for a life-changing award, and for doing everything in your power to make sure I was physically able to be there to celebrate it. I wouldn't be able to pursue half of the amazing opportunities I've had lately without you there to get me through them in (just about) one piece. I don't know what I'd do without you looking after me, whilst not making it feel like you're looking after me, whilst also managing to make me laugh until I can't breathe, even when everything hurts. You da best. Let's do this again some time.
And finally, to you who's reading this, because if you're a follower or regular reader of my blog, you're having more of an impact than you know. This is yet another unreal occasion in my life that's been facilitated by having the support and encouragement of you guys, and I can't begin to tell you how much it means to me. To know that you were watching and rooting for me as I collected my award, that you'd taken the time to write the sweetest comments on the Instagram picture I posted on the night, and to read your messages the following day when I was laid up in bed and suffering the payback? That's something I will never, ever take for granted. Thank you so much.
Now, that's enough of that, because guess what? I filmed some behind the scenes stuff throughout the entire Oliviers process, and compiled it into an astoundingly amateur video! So, for your personal enjoyment/endurance… oh Lord… here you go. Yikes.
If you enjoyed this blog, be sure to check out my other recent stagey posts too. You can also see more BTS pictures from the awards over on my blog Facebook page, and keep up with my latest life shenanigans over on Twitter and Instagram. Thanks so much for reading!