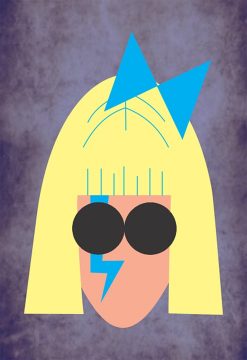 This post was originally commissioned by MTV UK. Read the original post (featuring the tweets mentioned in this piece) on MTV's Life page.
Lady Gaga is without a doubt one of the most iconic pop legends of our time. Having dominated the music scene and headlined Coachella, given one of the most talked-about Superbowl halftime shows in decades, and of course left a lasting legacy on the world in the infamous meat suit, what could possibly dare to stop her in her tracks? The answer is simple: fibromyalgia.
Fans were first given a glimpse into Gaga's struggle with chronic pain during her Netflix documentary, Gaga: Five Foot Two. We as an audience observed the daily battle she faced in trying to balance a thriving career with taking care of her health, and sympathised with her efforts to never let her fans down. To many, it came as no surprise when she later announced that she had been diagnosed with fibromyalgia: a debilitating physical condition causing widespread burning pain in muscles, ligaments and joints, unrelenting fatigue, and a whole host of other disabling symptoms.
Because Gaga is, well… Gaga, naturally she decided to embark on her upcoming grand-scale European tour regardless. However, the time eventually came when she reluctantly had to step back and put her health first, and in an emotional statement, her team announced that she was 'suffering from severe pain that has materially impacted her ability to perform live', and that she was 'deeply saddened' to cancel the final 10 dates of her tour, which included her London performances.
Although loyal fans were quick to offer their love and condolences in response to the statement, shared on social media on February 2nd, as well as in response to the reporting of the cancellation on other large news outlets, these tweets were noticeably peppered with some less than sympathetic responses.
'It's just attention seeking that's all' declares Tracey from Bolton, in her professional analysis of the situation, 'what a load of balls it really is'. Twitter user Damien agreed, stating 'damn, the attention seeking got the best of her'. 'This is not a real disease' adds Jason, 'stop being a baby and buck up for once'. Some users decided that the cancelled dates were a result of a 'severe lack of ticket sales', whilst others (who admittedly were trolls) shared GIFS and memes poking fun at and questioning her pain.
Meanwhile, another collection of social media users attempted to offer solutions to the situation, most likely intended to be helpful but again demonstrating utter misconceptions of the condition. 'Just use some Tiger balm' adamantly instructs Ashish, convinced that this will treat the complex neural abnormalities thought to be responsible for the condition. 'Cut out sugar' and use 'herbal botanical treatment' were among other suggestions, implying beliefs that the condition was a result of Gaga's lifestyle choices, and something she had control over. [please note: all of the tweets mentioned above are embedded in the original MTV article.]
It was whilst reading some of the above responses that I couldn't help but cast my mind back to when Ed Sheeran cancelled his own tour after breaking his arms in a motorcycle accident, so I decided to take a look back at the reporting of this news and the Twitter users' responses to it. Unsurprisingly, not once did I observe anybody telling him that his decision to cancel his tour was attention seeking, or lecturing on lifestyle changes to treat his broken bones. Instead, these responses featured outpourings of love and sympathy, and thousands of well wishes from the Twitter community. Both Lady Gaga and Ed Sheeran developed physiological limitations that prevented them from performing, but why were these cases perceived so differently?
I think the difference in reactions to Ed's broken bones encased in casts and Lady Gaga's physical health condition tells us something important about the way we think about invisible illness. Is it because people can't personally see Gaga's suffering that they choose to question it? Is it because chronic pain isn't visible that they think it's something that she has any degree of control over? If she let people into her home when she's having a pain flare and they saw her howl and cry, would that be enough to validate her illness? And why should she have to validate her illness in the first place?
As somebody with an invisible chronic illness myself, I've seen first-hand how people's attitudes and knowledge seem to so widely vary between conditions they can see, such as broken bones and amputated limbs, and those they can't see- not just physical conditions, but mental illness too. It's unsurprising that people tend to know less about long-term conditions that they can't see, but it does unfortunately seem that people are much less willing to learn about and accept them too. Whilst having a disability of any nature (including visible impairments) is full of challenges, it's endlessly frustrating to see how invisible conditions continue to be stigmatised by those who aren't willing to learn.
However, if you take one thing away from this article, make it this: believe the sufferer. If Lady Gaga, arguably one of the most prominent figures of the 21st century music and celebrity scene, needs to cancel her tour in order to look after her health, then I stand by her decision and you should too. The only thing worse than living with long-term chronic pain, is living with long-term chronic pain and not having people believe you. You might not be able to see somebody's suffering, but that doesn't mean it isn't there.
In the future, I'd love to see a shift in attitudes towards invisible illnesses, and people's perceptions towards conditions that they don't necessarily understand. Some targeted treatment and a cure for chronic pain wouldn't go amiss either… if anything, just to ensure that we get to see our Gaga continue slaying the pop icon game in years to come.
Chronic pain can be debilitating and isolating, but you don't have to face it alone. Scope's online community offers a supportive platform for talking about issues raised by pain, and connecting with advisors and those with similar impairments. For further information on fibromyalgia, visit Fibromyalgia Action UK.
This post was originally commissioned by MTV UK. Read the original post (featuring the tweets mentioned in this piece) on MTV's Life page.