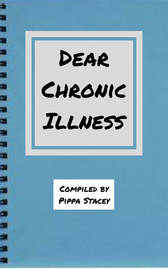 Title:
Dear Chronic Illness
Published by:
Wallace Publishing
Release Date:
14/06/18
Pages:
62
ISBN13:
978-1999613617
Dear Chronic Illness features a collection of short letters written by young people, addressed to their long-term illnesses and impairments, detailing what they would like to say to them. The letters are not your typical sob stories, and provide a light-hearted and humorous commentary on the writers' various experiences, yet they also give insight into the challenges of navigating life whilst learning to live with their conditions. Share your thoughts and join in the conversation by using the hashtag #DearChronicIllness.

Links marked with * are affiliate links. I receive a small percentage in commission for any sales made through these links, at no extra cost to you: any earnings made here will also be donated to Spoonie Survival Kits.
Add on Goodreads
"Dear M.E,
If this letter was part of an inspirational movie, I'm sure I would be saying a heartfelt thank you. Dramatic music would play whilst I'd gush about how becoming ill changed my life for the better and helped me discover more about myself as a person, whilst I waltzed off into the sunset with a handsome prince and some kind of small fortune due to a dramatic plot twist.
Unfortunately, this is not an inspirational movie. Instead of waltzing off into the sunset, I manoeuvre an unreliable wheelchair along a questionably uneven pavement. Instead of finding a handsome prince, I concentrate on finding the most qualified medical professionals to manage my condition… with bonus points if they happen to be attractive, of course. And my plot twist isn't a small fortune: it's not knowing if, when or how I will ever get better."
– Pippa Stacey, Dear Chronic Illness
Find out more about the book and how it came about by reading my recent blog post, and find out more about my social enterprise Spoonie Survival Kits by checking out our website!